The Motorcycle-Samurai Story RPG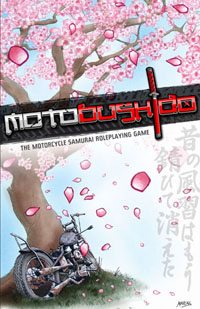 "The Way of the Samurai is, morning after morning, the practice of death, considering whether it will be here or be there, imagining the most slightly way of dying, and putting one's mind firmly in death." – Yamamoto Tsunetomo, Hagakure
Motobushido is a story-driven RPG from Alliterated Games, featuring the art of the talented Rick Marcks combined with a fresh new approach to dueling mechanics. It is a tabletop role-playing game about brotherhood, sacrifice, and death – all part of the Motorcycle Samurai lifestyle. In this game, you and a group of your friends play a pack of motorcycle-riding samurai in the years after a great war ravaged the land – a war that your side lost. You and your fellows are the last of a dying breed of warrior, following an antiquated set of beliefs that the rest of the world would rather forget had ever existed. As motobushi, you tell the stories of your trials and travels through a hostile world which rejects your ideals.
Motobushido began as a successful Kickstarter which has now reached the fulfillment stage. Digital orders are currently being fulfilled via DriveThruRPG, and the hardcopy editions are available there as well!
For more information, check out the blog on this page. There's also an increasingly active Google-Plus discussion community, where you can find other players, as well as answers to questions about the game.
Reviews
Links
Downloads
How to Get it?
Digital Versions
You've got two options for getting the game and it's expansion. If you're looking for the digital stuff only, just click the purchase link below, and buy it right here on my site. I'm working on adding more physical extras soon, such as the biker patches, hoodies, and shirt, but those are a way off.
And for the 15-page Expansion, click here.
Print Versions
If you want hardcopy, you can get that through DrivethruRPG: Click Here. The EPUB and the expansion are also there as well, to add to your library.