Savage Worlds Motobushido is Officially Seeking Playtesters!
Savage Worlds Motobushido is Officially Seeking Playtesters!
(I posted this earlier today directly to the original Kickstarter page, but with an official announcement pending I am putting this post up as an official rally point.)
Hello folks! So a while back, I got contracted to write a Savage Worlds version of Motobushido for Pinnacle. To make a long story short, that version (three books!) is now completely written, back under my domain and direction as a licensed Savage Worlds release, and is being geared up for an actual public release.
This is a completely new campaign setting and extended rules set for Savage Worlds, inspired by but not tired to the original Motobushido game. The new books feature all new layout and art. The original Motobushido artist Rick Marcks is back with a huge heap of brand new artwork, bringing back that faux ukiyo-e style that made the original game so visually astounding. And this edition brings two new covers and a full Savage Worlds GM Screen, all illustrated by Jeremy Wilson.
As we near completion of the final product, I am in desperate need of external playtesters. I need people that are not me to read the books, run them, and give me feedback on the setting, the writing style, and most of all: the mechanics.
Is your gaming group well-versed in Savage Worlds? Do you have a strong interest in playtesting the Completely Written and Ready for Layout books? Do you want to provide feedback on them, and get recognized playtester credit in the final print? If so, comment here, or message me directly! I'll get back to you one on one, and hook you up with the details of our playtest distribution and discussion forum (I'm currently using a private Google Plus Community for playtest discussion and feedback).
And to provide some teaser inspiration, here's a sample of the cover art for the new book!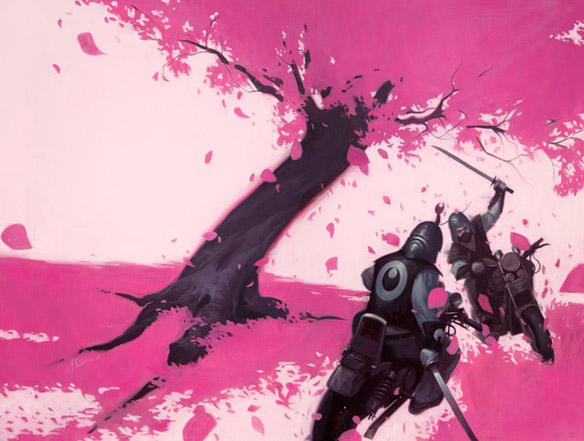 And here's some of the new art from Rick, too!